21/05/2016
Scaling Dam Open Scaling Dam Sailing Club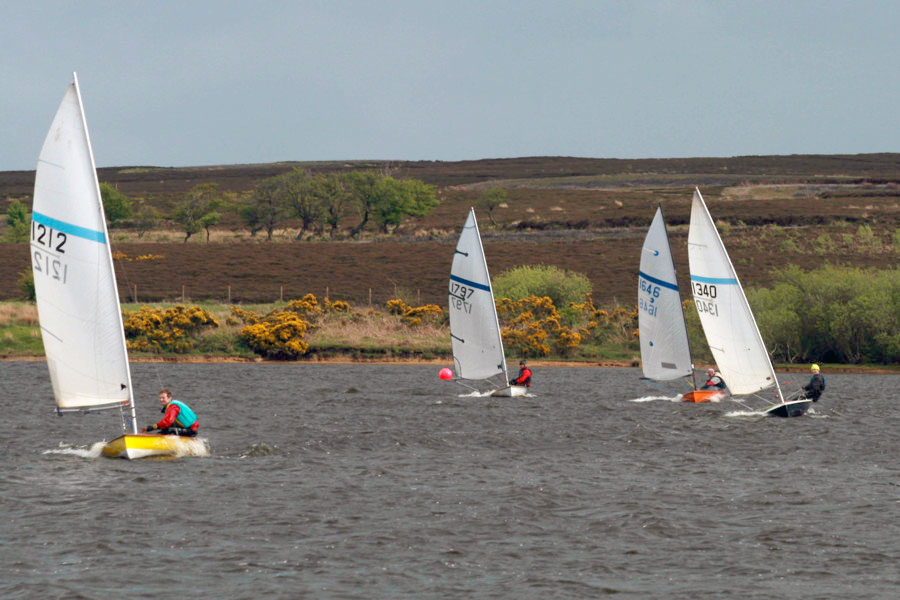 13 boats braved a mixed weather forecast for the Scaling Dam open and were rewarded with some sunshine, plenty of wind and tight racing along with a few interesting gusts, shifts and showers.
In the first race local boats made up the front of the fleet with Ian Priest leading from Zoe Meynell, John Tate and Lisa Metcalfe. Further back there were a few spectacular capsizes on and around the gybe mark while local knowledge didn't prevent some people forgetting where they were meant to be going next and getting spectacularly lost.
After lunch the race officer changed the course slightly in the hope of limiting the confusion. Ian and Zoe both had good starts and the first few legs were hard fought until a poor gybe close to the shore left Ian swimming while Zoe established a solid lead. In the middle of the fleet Mark Tinkler was going well until a halyard malfunction left him sat under a pile of sail. The second lap was a blur for everyone as a massive rain squall came through, making it difficult to spot boats, never mind marks. During the last lap Alan Ward won the battle for third, with Lisa Metcalfe and Alun Roberts in hot pursuit.
During the final race the sun came back and the wind moderated, leaving a couple of people regretting their decision to call it a day during the spectacular squall. Zoe, Ian, Alan and Lisa were fighting it out for first through the first lap and a half. Mistakes from Alan and Lisa split the leading group until gear failure for Zoe dropped her to fourth, leaving Ian to cover Alan to the finish. Bill Francis and Mark Tinkler recovered from their R2 problems for mid fleet finishes with Phil Brining bringing up the rear.
There were prizes for the top 5 boats, with Alun Roberts in 5th, Lisa Metcalfe in 4th, Alan Ward in 3rd, Zoe Meynell 2nd and Ian Priest 1st.